Magic Voices Choir West Midlands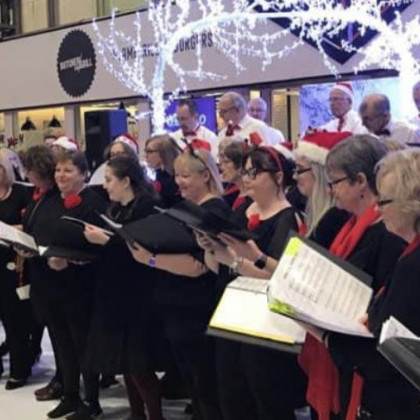 Magic Voices was born in Harpenden in 2010. SInce then, we have gone to do some astonishing things! All our arrangements are bespoke and created by our founder, Andy Rumble. Andy was musical director for Barry Manilow and scored Copacabana. He was musical director of various TV shows (The Frank Skinner Show, The Michael Barrymore Show) and numerous West End musicals. Have a look at some of our amazing videos! Some of which were created in lockdown using our own special recording/rehearsing app.
​We are lucky to have some extremely talented choir directors who have helped to make Magic Voices the amazing choir that it has become! We have recorded at Abbey Road for "Children In Need", we have performed at several large concert halls as well as hundreds of smaller concerts. Come and find out for yourselves how much fun it is!
Where to find Magic Voices Choir West Midlands at the Fair (may be subject to change at short notice)
Sunday 21st November 2021
13:30 - 14:00 Sparkle Cafe
15:00 - 15:30 Refreshment & Seating area (right side of hall)