Panto Dame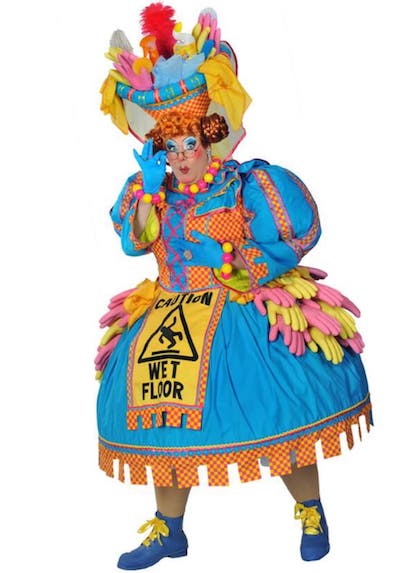 The outrageously funny Panto Dame will be causing trouble again this year ...you have been warned!!
Originally from Canterbury in Kent, Michael describes himself as a professional fat bloke in a dress. An entertainer, vocalist, drag performer, pantomime dame, writer, costume designer, wig maker and Greggs loyalty club member! His career began as a Red Coat for Butlin's and then he went on to work for many years at the Alton Towers Resort as it's outrageous hotel manageress, Ms Tanya Hyde. This drag persona has led him to perform all over the Uk and abroad, including Tenerife, Salou and Gran Canaria.
Michael is one of the UK's premier pantomime dames, now in his 20th year of damehood, designing and making all his own fabulous costumes, wigs and headdresses. Not only for himself but also for many of the best dames in the business, resulting in a best costume design nomination in the Great British Pantomime Awards.
More recently Michael has written and directed shows for Butlin's. He has spent the last five years helping produce and tour in their year round pantomimes.
Where to find Panto Dame at the Fair (may be subject to change at short notice)
Thursday 14th November
09:15 - 10:00 Fair Entrance
11:00 - 11:30 walkabout Rows D, E, F and Sparkle Cafe
12:15 - 13:00 walkabout Rows K, L, M and Food Village
13:30 - 14:15 Fancy Dress Competition at Teddy Bear Corner
15:15 - 15:45 walkabout Rows G, H, J and Sparkle Cafe
16:15 - 16:45 walkabout Rows C, B, A
Friday 15th November
09:15 - 10:00 Fair Entrance
11:00 - 11:30 walkabout Rows D, E, F and Sparkle Cafe
12:15 - 13:00 walkabout Rows K, L, M and Food Village
13:30 - 14:15 Fancy Dress Competition at Teddy Bear Corner
15:15 - 15:45 walkabout Rows G, H, J and Sparkle Cafe
16:15 - 16:45 walkabout Rows C, B, A
Saturday 16th November
09:15 - 10:00 Fair Entrance
11:00 - 11:30 walkabout Rows D, E, F and Sparkle Cafe
12:15 - 13:00 walkabout Rows K, L, M and Food Village
13:30 - 14:15 Fancy Dress Competition at Teddy Bear Corner
15:15 - 15:45 walkabout Rows G, H, J and Sparkle Cafe
16:15 - 16:45 walkabout Rows C, B, A
Sunday 17th November
09:15 - 10:00 Fair Entrance
11:00 - 11:30 walkabout Rows D, E, F and Sparkle Cafe
12:15 - 13:00 walkabout Rows K, L, M and Food Village
13:30 - 14:15 Fancy Dress Competition at Teddy Bear Corner
15:15 - 15:45 walkabout Rows G, H, J and Sparkle Cafe
16:15 - 16:45 walkabout Rows C, B, A