Stilt Jazz Band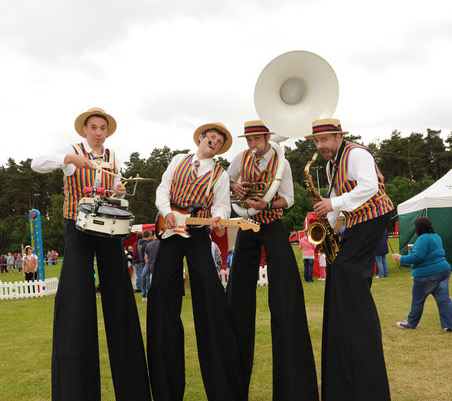 The wonderful Stilt Jazz Band will be jollying up the Festive mood every day at the Fair. 
This band on stilts features an oil-can guitar, harmony vocals, a horn section, and a rhythm section.and are all about fun playing a selection of Jazz, Funk, Disco and Ska classics.
Look out for their NEW FESTIVE COSTUMES at the Fair this year!
Where to find Stilt Jazz Band at the Fair (may be subject to change at short notice)
Thursday 14th November
11:00 - 11:30 walkabout Rows G, H, J and by the Christmas Tree
12:30 - 13:00 walkabout Rows F, E, D and by the Christmas Tree
14:30 - 15:00 walkabout Rows A, B, C and Teddy Bear Corner
15:45 - 16:15 walkabout Rows M, L, K and Sparkle Cafe
Friday 15th November
11:00 - 11:30 walkabout Rows G, H, J and by the Christmas Tree
12:30 - 13:00 walkabout Rows F, E, D and by the Christmas Tree
14:30 - 15:00 walkabout Rows A, B, C and Teddy Bear Corner
15:45 - 16:15 walkabout Rows M, L, K and Sparkle Cafe
Saturday 16th November
11:00 - 11:30 walkabout Rows G, H, J and by the Christmas Tree
12:30 - 13:00 walkabout Rows F, E, D and by the Christmas Tree
14:30 - 15:00 walkabout Rows A, B, C and Teddy Bear Corner
15:45 - 16:15 walkabout Rows M, L, K and Sparkle Cafe
Sunday 17th November
11:00 - 11:30 walkabout Rows G, H, J and by the Christmas Tree
12:30 - 13:00 walkabout Rows F, E, D and by the Christmas Tree
14:30 - 15:00 walkabout Rows A, B, C and Teddy Bear Corner
15:45 - 16:15 walkabout Rows M, L, K and Sparkle Cafe