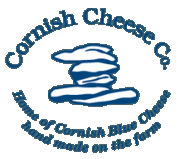 Cornish Cheese Co Ltd
Cornish Blue Cheese is a truly artisan hand made cheese, produced from milk supplied by the Stansfield's family farm on the edge of Bodmin Moor near Liskeard in Cornwall.
As a handmade product, much of the skill in producing the Cheeses lies with a highly trained team of artisan cheese makers. Cornish Blue is a vegetarian, pasteurised, cows' milk cheese which is dry salted by hand before being left to mature for between 12 and 14 weeks.
Designed to be eaten as a young cheese, Cornish Blue is a very different product from traditional English blue cheeses. Its flavour is mild and creamy, with a dense texture and buttery richness, instead of the