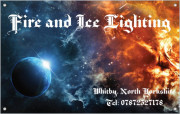 Fire and Ice Lighting
Fire and Ice Lighting is a small family business based in Whitby, on the beautiful East Coast.
We sell a range of linen lamps in a variety of designs, including birds, dragonflies, butterflies, deer and a host of other designs. We also sell some beautiful hand blown glass lamps, in a choice of shapes and colours, and a range of unusual and stunning ice pyramid lights. We also have this year some flame effect braziers which give a warm, cosy glow to your home.
Al of our lights are reasonably priced, come with LED warm white bulbs included and make ideal gifts for Christmas or why not treat yourself.