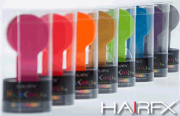 DVA Beautique London (Hair Chalkin)
Have you ever wanted to change your hair but do not want to dye it for a big commitment? This is one way that DVA Hair Chalkin will be a great asset to your hair.
You can apply any colour in minutes to create highlights. Just rub the colour onto wet or dry hair and just style your hair by curling or straightening.