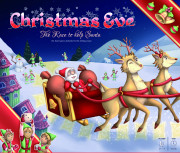 Christmas Board Games
Welcome to the only board game truly dedicated to Christmas!
Watch our video and visit us on stand, C34, to learn more about the game and grow your Christmas excitement.
It's been a long developmental journey, but we've made it - and now a family owned and created Christmas game is available for families and friends around the world.