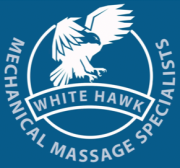 White Hawk Products Ltd
WHITE HAWK PRODUCTS are designed and engineered for you to enjoy the benefits of massage in the comfort of your own home. We specialise in massage equipment and endevourto manufacture the highest quality equipment that are easy to use. Our aim is for our customers to achieve professional results to help with all kinds of muscular discomfort. Regularmassage benefits the bodies circulation and helps the lymphatic system relieving a multitude of health related ailments.
White Hawk is a British company based in Dorset and we have 30 years combined experience of working with mechanical massage equipment. We have specifically designed 2 products to achieve the best massage treatments for home use.
THE SWITCH
The Switch is a shiatsu deep tissue massage device, it has dual rotating massage heads that can be used with or without heat. Thanks to the ergonomic form of the Switch it can give an effective massage to nearly all body parts be it neck, shoulders, back, legs, feet and stomach. The Switch can be placed on any furniture at home be it your sofa, recliner, dining chair or bed. The Switch also comes with active bands that allow you to use it without furniture and applying the pressure desired on the affected area. Also included is a 12 volt adapter for the car. Allowing you to use The Switch in the passenger seat of your car or when having a break on a long journey. RRP. £ 239
The FIX
The Fix is a percussion vibration instrument that is handheld. Due to its light weight and ergonomic design you can use it on your own and target any area of discomfort massaging your muscles and can even be used on more delicate areas such as knee and ankle joints. With two speeds and three interchangeable silicone attachments it can also be used directly on the skin with or without massage oils and creams. RRP. £ 199
Switch your health and Fix your body with a White Hawk product today